A housewarming party is usually celebrated when the couple moves to a new residence. It is a time of great jollification, especially if the couple is newlywed. Hosting the first party after marriage can be a little arduous, but it can also be exciting if one plans it accordingly.
An initial house party is more casual than a formal dinner party. However, it still needs to be organized appropriately. This includes the whole event planning, including the shopping, preparation, and the party itself. This article will reflect on some valuable and incredible tips for throwing the first house party as newlyweds.
8 Tips for Hosting the First House Party as Newlyweds:
First of all, you need to start with the basics. Talk to your partner and make a list of guests to be invited. Know your budget and decide on a date to throw your first house party as newlyweds. Once these basic things are done, the other steps would be easy to manage. Here are eight tips that will help you to host your party with ease.
Tidy up your home.
As you are planning to invite your guests at home; so, give a brighter outlook to your home. Start this activity by evaluating what needs to be done. Few tips on home cleaning are listed below:
Get rid of clutter and focus on the clutter hotspots.
Adequately wash the windows of your party space.
Especially clean the front door glass and add a little shine in the entry area.
Vacuum the window screens and shower the home curtains.
Clean the washrooms and kitchen area by hiring a cleaning service.
Discuss the Menu.
Look for exciting dishes and discuss the menu with your partner. Also, understand international cuisines, mainly if your guests belong to different cultural backgrounds. Few helpful tips to plan the menu are listed below:
Add such dishes to the menu that are cherished by most. This will help you to select the menu with an inclusive approach.
Set up the food and beverages area separately to create a mesmerizing effect. Also, add a salad corner to make your party unique.
Food presentation is essential. Ask the catering business to present it in a manner to surprise your guests.
Also, look for buffet items and discuss buffet table ideas with your partner.
The right décor will enhance your party venue and give a ravishing look to the overall theme. Choose the décor wisely with the help of your event planner. Here are few tips in this regard:
If you have a tight space at home, then look for light-coloured décor items. These items include flowers, candles, vases, etc.
If you have a vibrant theme, look for vibrant flower colours like red, dark pink, bright green, or yellow.
Consider choosing elegant centrepieces to add more beauty to the overall venue.
Drape the ceilings of the party area, especially if the party is inside.
If you have chosen the outside area, then hang paper lanterns and place a greenery wall. You can also add fairy lights to create a nice effect.
Analyze colours to select the best décor for your party.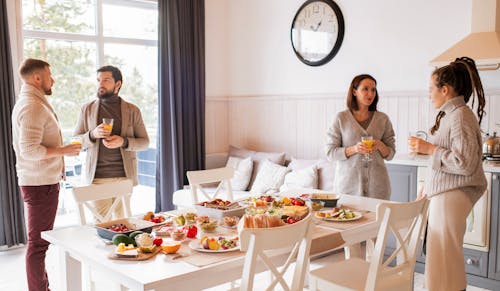 Arrange a few Exciting Games.
Games foster a sense of happiness and liveliness at a party. Consider choosing fun games to entertain your guests. You can also select "couple games" to keep their relationship lively. Arrange few exciting games like:
Truth and dare.
Treasure hunt.
Pictionary.
Mirror charades.
What's that strange thing?
Balloon duels, etc.
Send Invitations Personally.
Inviting guests to a party can strengthen relationships and friendships. It also fosters a sense of affection and love that you care for them. Invite your guests personally in the following ways:
Send the invitation cards with a personal note and add your and your partner's signature.
Record a voice note of invitation and send it to your guests on WhatsApp or other social media platforms. Also, ask for confirmation whether they will attend the party or not.
Develop a digital card having your couple's picture on it and send it to your guests. They will indeed like this idea. Also, state a line on the card to make them feel special.
Display Few Wedding Memories.
The guests always expect wedding pictures of the newlyweds. So to surprise them, display a few of your wedding memories by arranging a separate corner in the party. Talk to your event planner in this regard. Here are the steps to do it:
Select the best clicks of your wedding day and reception with your partner. Then, choose the pictures that you both adore the most.
Set up an LCD in the party area with a piece of light music. Arrange it in a manner that everyone can look at it with ease.
Display wedding and reception day highlights and few memorable pictures on the LCD. Everyone will feel special when you share this.
Take Pictures with the Guests.
Hire a professional photographer who can cover the whole party area. After displaying the wedding pictures on the LCD, ask the guests for some group and individual photos. This activity will make them feel great because you will be honouring them.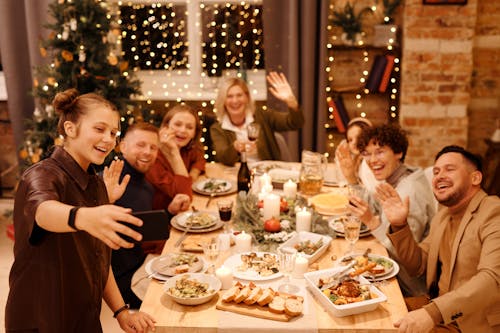 Celebrate with a Wedding Cake
Also, plan a celebration with a wedding cake at the end. Here are few tips in this regard:
Determine the cake's size by the guest count.
Consider the lighter dressing of the cake as it will be served in the end.
Choose a nice flavour to cherish the guests.
Hosting your first house party as newlyweds could be a little tricky, but if you organize it at every step, there is nothing to worry about. First, discuss openly with your partner to know his/her likings and preferences to come to the point of agreement. Make your party exciting by welcoming the guests with honour. The above-given tips can also be of great use to you, especially if you plan it from scratch. Happy Partying.
Special Matrimony:
Special Matrimony aspires to unite lovers of all kinds. Marriage is a beautiful connection between two people and, we believe that it's a sequence that should be made memorable. Our unique match-making platform aspires to connect people from around the world. Furthermore, we aim to connect people with certain conditions such; as autism, deafness, and countless more. Here at Special Matrimony, we believe in three things: Love, Harmony and, Joy. For further information, be sure to contact us.